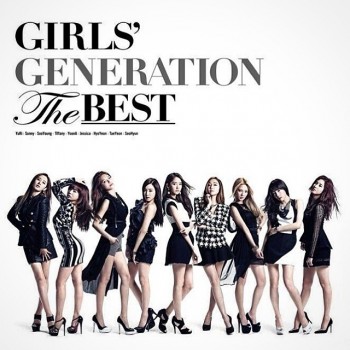 Girls' Generation's Japanese fansite has released details on the group's "The Best" album, to be released on July 23rd. The album will come in three versions: a Complete Limited Edition, a First Press Limited Edition, and a Regular Edition. All three versions of the album will include a CD with two new songs, "Indestructible" and a Japanese version of "Mr.Mr.". The full tracklist can be seen below.
"The Best" Album Tracklist:
1. GENIE
2. Gee
3. Run Devil Run
4. MR.TAXI
5. BAD GIRL
6. Time Machine
7. PAPARAZZI
8. Oh!
9. ALL MY LOVE IS FOR YOU
10. FLOWER POWER
11. BEEP BEEP
12 .LOVE&GIRLS
13. GALAXY SUPERNOVA
14. My oh My
15. Mr.Mr. (Japanese Version)
16. Indestructible
In addition, the Complete Limited Edition and First Press Limited Edition will include several extras.
Complete Limited Edition
– 12,000 yen
• CD with above tracklist, as well as "Hoot" and "The Boys" (eighteen songs)
• Bonus CD with recommended songs from Girls' Generation's Korean discography, one from each member (tracklist to be determined)
• Analog record-sized box
• Large-sized interview booklet (64 pages)
• Trading card set
• Blu-ray disc (approximately 230 minutes)
- 37 music videos from Japan and Korea, including "I Got A Boy" and "Mr.Mr."
Japanese Music Videos
1. GENIE
2. GENIE Dance Version
3. Gee
4. Gee Dance Version
5. Run Devil Run
6. Run Devil Run Dance Version
7. MR.TAXI
8. MR.TAXI Dance Version
9. BAD GIRL
10. Time Machine
11. PAPARAZZI
12. PAPARAZZI Dance Edit GOLD
13. Oh!
14. Oh! Dance Version
15. ALL MY LOVE IS FOR YOU
16. FLOWER POWER
17. FLOWER POWER Dance Version
18. BEEP BEEP
19. LOVE&GIRLS
20. LOVE&GIRLS Dance Version
21. GALAXY SUPERNOVA
22. GALAXY SUPERNOVA Dance Version
23. My oh My
Korean and English Music Videos
24. Into the New World (Korean)
25. Girls' Generation (Korean)
26. Kissing You (Korean)
27. Gee (Korean)
28. GENIE (Korean)
29. Oh! (Korean)
30. Run Devil Run (Korean)
31. Run Devil Run Story Version (Korean)
32. Hoot (Korean)
33. Hoot Dance (Korean)
34. The Boys (Korean)
35. The Boys (English)
36. I Got A Boy (Korean)
37. Mr.Mr. (Korean)
- "Everyday Love" performance from the Yokohama Arena on December 14th, 2013
- Split screen version of "MR. TAXI"
- New solo interviews
- "Live History": footage from Girls' Generation's debut to the third Japan tour
- Making of "The Best" (behind-the-scenes of album jacket photoshoot)
First Press Limited Edition
- 4,500 yen
• CD with above tracklist (sixteen songs)
• DVD (approximately 130 minutes)
- Nine music video dance versions
1. GENIE Dance Version
2. Gee Dance Version
3. Run Devil Run Dance Version
4. MR.TAXI Dance Version
5. PAPARAZZI Dance Edit GOLD Version
6. Oh! Dance Version
7. FLOWER POWER Dance Version
8. LOVE&GIRLS Dance Version
9. GALAXY SUPERNOVA Dance Version
- New solo interviews
- Making of "The Best" (behind-the-scenes of album jacket photoshoot)
Regular Edition
– 2,500 yen
• CD with above tracklist (sixteen songs)
credit
@темы: Japan, Girls Generation, News, Photos