Hyoyeon Leaves a Video Message for "Burn the Floor"
Hyoyeon left a video message in support for "Burn the Floor", a dance musical coming to South Korea in November. Hyoyeon mentions that the musical has a cool, sexy stage with world dance champions ready to perform.
"The Insider" Mentions Girls' Generation and Tiffany on Their K-Pop Segment
"The Insider" recently aired a special segment discussing the K-Pop phenomenon, especially in the United States. Girls' Generation is mentioned as one of the groups with the most success in digital downloads. Also, Tiffany is mentioned as "one of the members of the most successful K-Pop group of all time" who is not from Korea, yet still found success in the industry.
"Fashion King" DVD Box Set to Release in Japan
The DVD box set for Yuri's drama, "Fashion King", will be released in Japan on December 19th. Yuri played Choi Anna, one of the female leads in the drama. "Fashion King" concluded last May. For more information, visit the drama's
official Japanese website
.
Actor Jo Sungha Chooses Seohyun as His Ideal Type
In a recent interview with Sports Seoul, actor Jo Sungha stated that Seohyun is his ideal type. Sungha, who has acted in many movies and in the TV show "Sungkyunkwan Scandal", explained, "I like how her face, and especially her eyes, are clear."
"Legally Blonde" Announces Jessica's First Musical Date
With Jessica returning to the musical stage for a second run of "Legally Blonde", it was announced that Jessica's first performance will take place on November 28th. Future performances will be announced later, and more information can be found on the
official Facebook page
for "Legally Blonde".
Lee Jaehoon Mentions Yuri Before Enlisting
Lee Jaehoon, Yuri's former co-star from "Fashion King", recently mentioned Yuri before beginning his enlistment in the army. He told the press that he wishes "Yuri, Suzy, and Kang Sora would come visit him."
Taeyeon, Tiffany, and Seohyun to Appear on "Love in Asia"
On November 13th, KBS will air a special entitled "Love in Asia". Taeyeon, Tiffany, and Seohyun will be featured on the show, which will begin at 7:30 PM KST. "Love in Asia" will also be a special for VTV, or Vietnam Television, a television broadcaster in Vietnam.
Taeyeon Uploads New Photo onto Girls' Generation's Japanese Mobile Fansite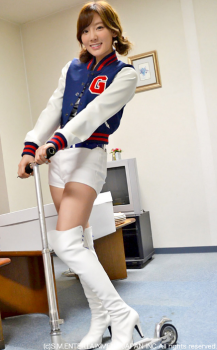 Taeyeon uploaded a new picture on Girls' Generation's Japanese mobile fansite. Dressed in the outfit from the Japanese version of the "Oh!" music video, Taeyeon cutely poses with a scooter.
New Sets of Picturesbanila co. –
Jessica 1
,
Jessica 2
,
Jessica 3
Lotte Department Store –
Group 1
,
Group 2
,
Group 3
Credit
@темы: Drama, Hyoyeon, Japan, Jessica, Korea, Photos, Seohyun, Taeyeon, The Weekly News Wrap, Tiffany, Video, Yuri, sub-group: TTS